Timely foundation repair for New Braunfels properties is vital, as a weak foundation allows a structure to settle and sink. This sinking process risks what is called secondary damage, including wall and ceiling cracks, framing cracks, gaps around window and door frames, and mold growth.
Property owners should also remember that the longer you put off needed foundation fixes, the more extensive that damage becomes! You might also be surprised to find that foundation fixes aren't always as expensive as assumed and that most foundation repairs last for decades. Check out some added information about average foundation repair costs so you know what to expect for your property.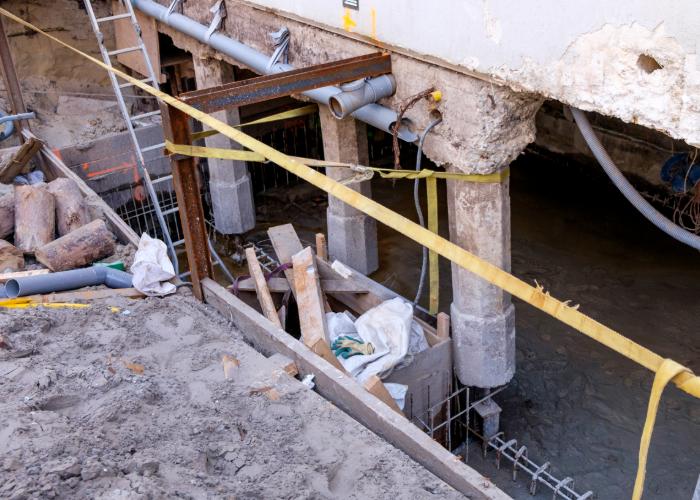 Average Cost of Foundation Repair in New Braunfels
The cost of foundation repair in New Braunfels depends on the foundation construction, the type and extent of damage, and the size of your structure. To give you an idea of these costs, note some national averages and remember that these are just "ballpark" figures; your actual foundation repair costs will vary!
Foundation crack repair usually averages between $250 and $800. Foam injection into a crack seals it off and keeps the foundation protected. These injections degrade over time, so you might need to reapply this solution every 3 to 10 years, on average.
Cracks that are damp require leak repair, which is more extensive than simply injecting foam into the crack itself. New tile drains, installed along the foundation to direct water away from the structure, are often needed. Installing these drains involves excavation which then increases the repair price, usually between $2000 and $7000 on average.
Underpinning lifts a sunken house, then attaching it to piers or pins inserted deep into the ground. These piers keep the structure in place, providing support for the foundation. Underpinning usually averages between $1000 and $3000 per pin, so your total costs will depend on the number needed for your property.
House leveling or slab jacking is also used to lift a sunken property into a level position. This process includes drilling through the foundation and then injecting leveling grout under the concrete; as this slurry dries, it floats the structure back into position. House leveling usually averages between $500 and $1300.
Weakened or damaged basement walls might tend to bow inward or outward; this issue needs immediate repair, as basement walls can outright crumble! A contractor will usually apply specialty straps to the walls, to push them back into place and provide added support. These straps might cost from $350 to $1000 each, so your total costs depend on how many are needed for your property.
Cost for Secondary Foundation Repair Services
After scheduling foundation repair, it's vital that you address the cause of foundation damage! Excess moisture around a foundation is a leading cause of cracks, leaks, and other such issues. Note some average costs for addressing this issue and ensuring your structure's foundation stays in good condition over the years:
Basement waterproofing provides a clean and dry space, protecting finished building materials like drywall and flooring, as well as items stored in the basement. Waterproofing might cost anywhere from $600 to over $4000, depending on the materials chosen and the size of the basement.
Sump pumps are excellent for removing excess moisture from a structure's lower levels and can protect your property during a flood! A sump pump installation averages between $600 and $2000, depending on the size of the pump and how much excavation is needed.
Crawlspace encapsulation blocks moisture around a pier and beam foundation, while also providing a clean and dry space for storage and accessing a home's underside. Encapsulation might cost as low as $1500 for smaller properties and run into the tens of thousands of dollars for larger, commercial structures.
French drains are installed outside a structure; this is a series of pipes that collects moisture in the soil and directs it away from a foundation. French drains usually cost between $10 and $30 per linear foot, so your total costs will depend on the size of the system needed for your property.
Property owners should also budget for addressing secondary damage after foundation repairs are complete. Based on HomeAdvisor, most homeowners can expect to pay on average between $2,000-$7,000 per project. This can include patching wall and ceiling cracks, replacing damaged crown molding or baseboards, re-leveling window and door frames, and mold cleanup. A property owner might also need to address buckled flooring, damaged roofing and plumbing fixtures, and even insect infestation!
NB Foundation Repair Experts is happy to bring this information about foundation repair costs in New Braunfels to our readers and hopefully, we've offered lots of helpful tips for you to consider. If you're in the market for high-quality foundation fixes and waterproofing for your property, call our New Braunfels foundation repair contractors today. We offer FREE foundation inspections and price quotes, and guaranteed repairs that last. For more information, just give us a call.